As we move toward the summer months it's important to recognise the impact that a refreshing landscape can have on public places. This is no different when it comes to University campuses.
In this post we have a list of some of the more adventurous and compelling landscape ideas for Universities in 2021.
Plantar Walls & Benching
An impressive body of work we're proud at over at NUI, Galway student accommodation.
The project involved the design and manufacture of plantar walls and integrated linear benching made from FSC-approved hardwood.
Check out our case study on the project at NUI, Galway.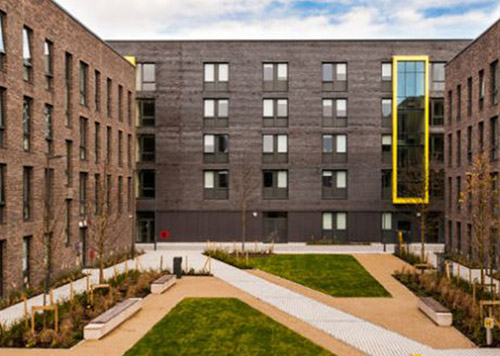 If you are planning on integrating bespoke landscaping then taking inspiration from the work carried out at NUI's student campus wouldn't be a bad place to start.
Creating a relaxing and aesthetically pleasing environment for students in residential accommodation is a must when looking at University landscape ideas for this year, and coming into the more sunny months it really gives the opportunity to take advantage of that extra bit of green growth in planters.
Alongside this, benches are an obvious must for creating a communal atmosphere anywhere and this is no more the case at student accommodation.
We have a wide array of bespoke benching available alongside planters to take inspiration from when considering University landscaping
See more concrete furniture ideas
Paving
One of the most obvious places to start when considering a redesign on University landscaping is the paving. Due to modern ingenuity there is an abundance of choice available for providing bespoke paving for campuses.
At Cassidy Brothers we take pride in our catalogue of work on paving, and this is no different to the University landscape projects.
We manufacture paving which is available in different colours and textures. As paving manufacturers we pass on the economic advantages to our customers.
Water Features
In a recent project, we manufactured a water feature for the Imperial College.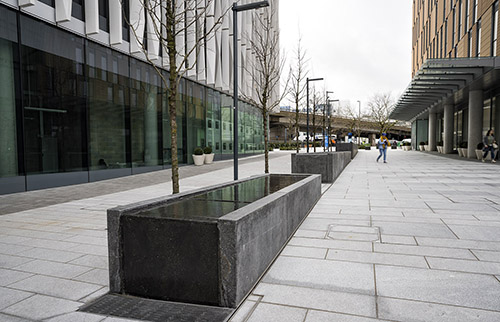 A water feature offers a unique and vibrant look to any public garden setting.
Cassidy Brothers University Case Studies
The project involved the design and manufacture of bespoke creations made from exposed, polished concrete, including paving, benching and planter walls.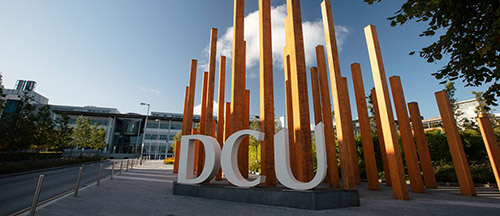 Cassidy Bros was tasked with the design and manufacture of bespoke, exposed, polished concrete creations to provide an attractive and practical environment at the exterior of Notre Dame School.
Hard landscaping at the Dumdrum school features beautifully finished, polished concrete furniture with integrated wooden benching and plantar walls crafted by our team.
Again, although a small detail in the process, you can see from the finished article that concrete furniture has a big part to play in giving a university landscape a finishing touch.
You can see a full list of our projects and products here where you'll find some certain inspiration for delivering a University landscape plan for 2021.